Exceed Your Workforces' Needs with Our Learning and Development Handbook

The learning and development (L&D) landscape is constantly changing.
There's no doubt that L&D Managers and HR professionals are under pressure to keep up with organisational and employee needs, engage new and existing employees, manage individual and organisational performance, effectively upskill teams and protect staff turnover — all while crafting a positive company culture employees feel proud to be a part of.
Phew. That's a lot.
So, how can those professionals navigate new and old development needs?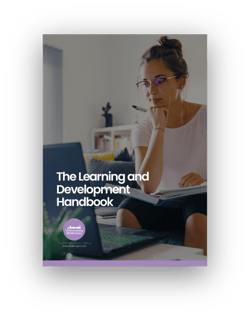 That's where our handbook comes in...

Inside you'll find a range of learning and development topics with techniques and tips backed by research and expert knowledge, including:

How to make employees feel invested in and valued

Ways to protect staff turnover and encourage effective feedback

How to upskill new and existing employees to improve performance and satisfaction

How to develop a positive working culture to boost your organisation's success

Ways to continuously build your learning and development knowledge

Download your own free version of the handbook by filling out the form on this page.